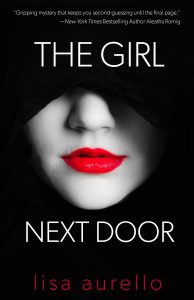 About The Girl Next Door:
Am I a killer?
That is the question haunting 25-year-old Jane Jensen.
When she wakes up in the hospital after a devastating auto accident, she finds that her memory since ninth grade of high school has been wiped clean. As she heals, she begins to recover a memory here and there, and piece by piece, she struggles to stitch it all together to reclaim her identity.
Regaining much of her lost memory, however, is proving stubbornly elusive. Jane is aware that she has gone from bullied, overweight schoolgirl to successful corporate wonk in the last several years. But when the wife of her teenage obsession gets killed in a professional hit, Jane makes yet another transition—to that of murder suspect.
It's a situation that would be unbearable for anyone, but it's infinitely worse for Jane—she can't defend herself from the awful accusation for one major reason: Jane has no idea if she's innocent or guilty.
Buy the ebook:
Buy the Book On Amazon

Author Bio:
Born in Brooklyn, NY, I lived for many years in NYC's Tribeca neighborhood where I met my husband. It was an arranged marriage—our dogs hooked up in a hot and heavy bromance and then we figured, what the hell? After marrying, we had two human boys in addition to our canine lads and moved across the country. Three years later we ended up back in Lower Manhattan and then landed in upstate New York.
I've always been an avid reader and started writing as a tot because I felt I had a lot to say—and to the dismay of many others I've never stopped. My love of the printed word has taken me from avid reader to proofreader, copy editor, and writer of nonfiction, poetry, short fiction, and finally novels. I also teach writing and literature as an adjunct professor and massively appreciate having a captive audience. The only things I loves as much as books are my husband, two sons, spectacular golden retriever, assorted felines, sisters, and every animal I ever meet.
Follow the author on social media:
Facebook Fan Page
Twitter
This site contains affiliate links to products. We may receive a commission for purchases made through these links.