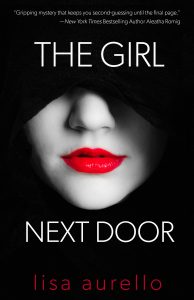 "About The Girl Next Door:
Am I a killer?
That is the question haunting 25-year-old Jane Jensen.
When she wakes up in the hospital after a devastating auto accident, she finds that her memory since ninth grade of high school has been wiped clean. As she heals, she begins to recover a memory here and there, and piece by piece, she tries to stitch everything together to reclaim her identity.
Jane is aware that she has gone from bullied, overweight schoolgirl to successful corporate wonk in the last several years. But when the wife of her teenage obsession gets killed in a professional hit, Jane makes yet another transition—murder suspect.
It's a situation that would be unbearable for anyone but it's infinitely worse for Jane for one major reason: she truly has no idea if she's innocent or guilty.
The Girl Next Door will keep readers guessing until the last turn of the page.
Buy the ebook:
Buy the Book On Amazon

Author Bio:
I'm a NYC native though I've lived in a few other places over the years—Chicago, Los Angeles, and Santa Fe. I've been writing in one form or another for my entire life, but fiction has been my definite thing for the last ten years. When I'm not writing—or hiking with my golden retriever and little scrappy terrier (my dog's rescue dog)—I teach English and writing to skeptical college freshmen and copyedit manuscripts for other authors.
Follow the author on social media:
Facebook Fan Page
Twitter
Instagram
This site contains affiliate links to products. We may receive a commission for purchases made through these links.