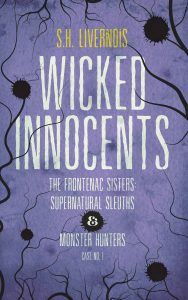 "About The Frontenac Sisters: Supernatural Sleuths & Monster Hunters–Case No. 1, Wicked Innocents:
Everyone is good at heart. Until the heart is broken.
Nelly Huggett swears something took her mother, brother, and father. She doesn't know what, or when, or how. And she needs Hyla and Lizeth Frontenac to bring them all back.
Trouble is, her story doesn't make sense. Though one thing is certain: something evil has infected the Huggett house. And when Nelly reveals her sinister side, the sisters wonder if the monster they seek is masquerading as a little girl.
But Hyla won't accept that. She can't lose another child to darkness. She knows Nelly's just different, wild, misunderstood.
But what if she's wrong?
Wherever this evil comes from, it's dragging Hyla into the abyss faster than she can chase the clues.
And she may lose herself before she can save anyone else.
Wicked Innocents is the first, free installment in a series of three books that combine a good old-fashioned amateur sleuth (two, in fact), with spine-tilling suspense, just enough horror to keep you on the edge of your seat, and the heart-pumping adrenaline of a fast-paced thriller.
Sleuths and sisters Hyla and Lizeth Frontenac run their own unique private investigator business from a small town in the Adirondacks. But they're more often in their 1972 Ford Econoline van, driving across rural America to investigate their next case.
They're not technically professionals, not really. The crimes they investigate are more dark and disturbing than the average. More…bizarre. Criminals are cloaked as supernatural creatures, occult forces threaten them at every turn, and the confused victims demand justice.
Lucky for the victims, when these women sleuths are on the case, no monster is safe.
For Kindle readers who enjoy a strong female lead protagonist, this thrilling series of paranormal private investigator mysteries will have you hooked from the first word. From the twisted imagination of mystery, suspense and thriller writer S.H. Livernois.
Targeted Age Group: Adults
Written by: S.H. Livernois
Buy the ebook:
Buy the Book On Amazon
Author Bio:
Hi! My name is S.H. Livernois, but you can call me Shelley. I am an author, artist, wife, dog mother, traveler, empath, and introvert.
I live in the middle of nowhere-Northern New York between the Adirondack Mountains and Canadian border. I make my home in the tiny town of Moira with my husband, Jourdan, and a redbone coonhound named Violet. In the mornings I indulge my creative desires, but by night I work at the family business, bossing people around.
Writing is something I've always done, ever since I wrote my first "book" at age five, which was about a rooster. For me, writing is like breathing, it's necessary for my mental health, it helps me understand the world around me and express my ample opinions about it. I write to make people think, to scare them a little, and to help them empathize with people unlike them.
My chosen genres are mystery and suspense, but somehow, all of my stories end up scaring people half to death, so I suppose you could say I mix in a little horror (but not too much).
When I'm not writing, I'm reading, drawing, taking pictures, tearing my ATV through the woods, traveling with my husband or sister, or watching far too much TV. My ultimate dream is to build a "creative cabin" of my very own, a combination writing room and artist's studio, preferably in the middle of the woods and by a river. Maybe someday…
Follow the author on social media:
Learn more about the writer. Visit the Author's Website