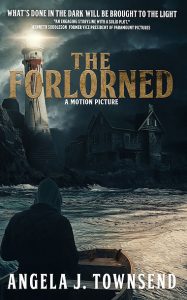 "About The Forlorned-Now A Motion Picture:
When Tom Doherty first laid eyes on the lighthouse he knew it was damned. An advertisement lured him to the island, offering a job renovating the old lighthouse and ramshackle buildings. What he didn't know was that he was the only applicant. None of the locals wanted the job…no one dared. Isolated and alone, Tom soon discovers why. Messages from disembodied voices; ghostly visitations and escalating horrors draw Tom deeper into the island's evil past…a darkness that forces Tom to unbury the truth and bring demons of his own into the light.
Targeted Age Group: adult
Written by: Angela Townsend
Buy the ebook:
Buy the Book On Amazon

Buy the Audio Book:
Buy the Book On Amazon
Buy the Print Book:
Buy the Book On Amazon
Author Bio:
I am a filmmaker and a traditionally published, award-winning author of more than ten novels. I am a member of the Author's Guild in NYC. I feel very lucky to be represented by the former Vice President of Paramount Pictures, M. Kenneth Suddleson. I have a motion picture, The Forlorned, based on one of my books and many others coming soon.
In 2018 I won a notable trademark lawsuit over my book title, The Forlorned. The person who sued me is a convicted child sex offender who had filed dozens of malicious and frivolous lawsuits against many innocent parties. The case ended up in the US Supreme Court, and winning freed me from years of harassment from what the press is calling "Trademark Trolls."
I want my readers and fellow authors to know– if you or someone you love is being stalked, sued and or harassed, please get professional help. Stalking can be deadly–often victims feel alone. I recently formed Authors Unite Against Bullies. I hope to help others who are being bullied and victims of frivolous lawsuits. To read more about my inspiring story of courage and hope, please visit my website. Thank you!
Follow the author on social media:
Learn more about the writer. Visit the Author's Website
Facebook Fan Page
Twitter