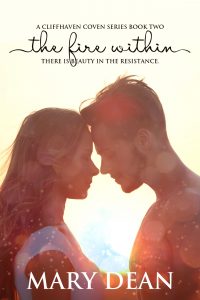 "About The Fire Within:
Rachel had to grow up fast. At age 20, she is now a single mother trying to forget about the pain she feels from the betrayal in her past. Her world gets turned upside down when Zeke, her childhood nemesis moves in at the offer from her mother Abigail after his mother passes away. While Rachel is trying to find every way to get rid of him, he is dealing with his own personal turmoils.
Zeke won't accept his powers as a magic being and sees his powers as a curse. As they push and pull they can't deny the attraction neither of them want. Then her daughter Abby is in danger and secrets are revealed that threaten the future of their relationship and also the future for Cliffhaven.
Targeted Age Group: New Adult
Written by: Mary Dean
Buy the ebook:
Buy the Book On Amazon

Author Bio:
Mary Dean is an author and blogger.
Follow the author on social media:
Learn more about the writer. Visit the Author's Website
Facebook Fan Page
This site contains affiliate links to products. We may receive a commission for purchases made through these links.