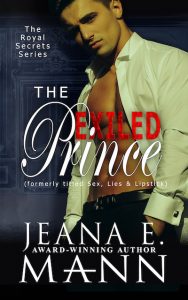 About The Exiled Prince:
A secret masquerade hookup leads to complications with Rourke's new boss.
Rourke: As a celebrity personal assistant, I pride myself on professionalism. When a mysterious stranger offers to show me the wonders of a clandestine sex club at the masked ball, I jump at the chance. Because no one will know me, right? One night. No names. No faces. It should have ended there. I had no idea that the handsome, enigmatic man would turn out to be my new employer.
Roman: After the masquerade, I searched for the girl who'd crashed my party, only to find her in my office a few months later. I can't fire her because she's the best assistant I've ever had, but I can't stop wanting her in my bed either.
If you like tension, angst, and a good dose of sexy, then this book is for you.
Buy the ebook:
Buy the Book On Amazon
Buy the Book On Barnes & Noble/Nook
Buy the Book On iBooks/iTunes

Author Bio:
Jeana is an award winning author of contemporary, new adult, and erotic romance, including the Felony Romance Series, the Pretty Broken Series, and the Royal Secrets Series.
She fell in love with reading at an early age and began writing as an outlet for all the crazy stories in her head. When she's not busy tripping over random objects, you can find her outdoors with her two crazy rat terriers or traveling to new places around the world.
Follow the author on social media:
Learn more about the writer. Visit the Author's Website
Facebook Fan Page
Twitter
Instagram