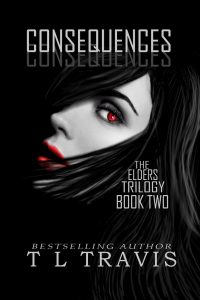 About The Elders Trilogy, book 2 – Consequences:
In book 2 of The Elders Trilogy, Consequences, our heroine Jessica Cartright has been forced to leave the life she's grown to love behind. Hunted by Rogue Vampires, a coven led by her fiancé David's mother Lourdes, the Elders Council has moved them into their protective custody.
Lourdes and her coven have made it their life's mission to see to it that David and Jess never get married. The only way she can ensure this never takes place is by ending Jess's life, no matter what it costs her in the interim.
Hunted by the council for her crimes committed against not only human kind, but their community as well, will Lourdes be able to pull off her attack and escape unscathed? Or will she and Jess succumb to the same, bloody end?
The Elders Trilogy is an erotic, paranormal/horror romance series.
Buy the ebook:
Buy the Book On Amazon

Author Bio:
TL Travis is the published author of a plethora of Erotic Romance musings that have earned me a "Best Seller" status in the US as well as Internationally.
In my spare time, when I'm not weaving erotic webs, I enjoy fishing, wine tasting and people watching. Everyone has a story to tell, it would be fun to guess yours.
I've rescued 4-legged souls in need for as long as I can remember, and would like to remind you to "Adopt, not shop." Saving that life may very well save yours in return.
Follow the author on social media:
Learn more about the writer. Visit the Author's Website
Facebook Fan Page
Twitter
Instagram
This site contains affiliate links to products. We may receive a commission for purchases made through these links.