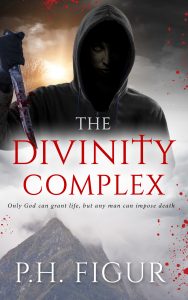 "About The Divinity Complex:
Jack was the most prolific serial killer in history. But Jack's targets weren't random. They were people who in Jack's eyes deserved to die. That's because Jack believed in the divine power between life and death.
Jameson Bradford III was founder of the largest pharmaceutical company in the world. For Jameson, money wasn't enough; he sought something money couldn't buy. Jameson wanted divine power to control everything, including the behaviors of all mankind.
In a small town in Wyoming, Jameson's company is studying the most extreme forms of human behavior. The objective is to develop a mind-altering drug enabling Jameson to fulfill his wish. But to be successful, the project had to take on the biggest challenge of them all…to understand the delusional mind of a serial killer. A killer by the name of Jack. What could go wrong?
Buy the ebook:
Buy the Book On Amazon

Author Bio:
Peter Harlan Figur grew up in Massapequa, a small New York town located on Long Island in the southeast corner of Nassau County. After graduating from C.W. Post College, he spent the next 30+ years working in the accounting/auditing field for three multi-national companies.
About five years ago, Peter started writing a daily journal recapping daily events, capturing his thoughts, and documenting his opinions. He had gotten the idea for a journal from a book called "The Heroin Diaries" written by Nikki Sixx. It was an odd choice of a book and an author, to say the least. But that's how inspiration works. You can't go looking for it, because you'll never find it. Inspiration always finds you.
Peter's daily journal morphed into writing short stories about his travels around the world and his passion for music and sports. He even wrote a hockey blog one year covering his beloved New York Islanders and their final season in the Nassau Coliseum. But the more Peter wrote the more it drove him towards an even more significant project, to write his autobiography entitled "Life Sentence."
The book would document a specific challenge that had haunted Peter his whole life. He wrote extensively about how searching years for a cause until he finally found the problem. It was extremely difficult situation to deal with, but Peter knew it wasn't the end of the world. It was just be something to live with the rest of his life. It wasn't a death sentence, it was a life sentence.
After a couple of years of writing, there were two significant problems with Life Sentence." First, there was enough material for a couple of books in different genres, and second, he couldn't figure out how the story was supposed to end. There was a good reason for that. It was an autobiography. There was still some big things on the horizon. You can't finish your autobiography until you get closer to the end and Peter knew there were more chapters to write before his story was over.
The New America and The Divinity Complex represented Peter's first two novels. Writing for Peter is not a hobby, but a calling. It was meant to be. After so many years, Peter finally found his passion. Some would say it's a shame to find your passion so late in life. But if you asked Peter, he would tell you that wasn't true. "You can't look at life that way. It's always better to find your passion late in life, then never finding it at all."
Follow the author on social media:
Learn more about the writer. Visit the Author's Website
This site contains affiliate links to products. We may receive a commission for purchases made through these links.