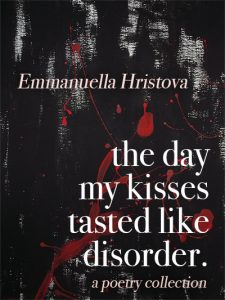 About The Day My Kisses Tasted Like Disorder:
"The Day My Kisses Tasted Like Disorder" is a collection of poems that explores a tumultuous year of love, heartbreak, and all kinds of unimaginable loss. Emmanuella's debut poetry book documents the birth and death of a relationship, and the death of her sister. Each poem is an emotional time-stamp that plunges the reader into the depths of the author's feelings as they burgeon and wane. The book reads like a diary and chronicles the boundaries of the things that we all feel: passion, heartache, and pain that gives way to hope.
Buy the ebook:
Buy the Book On Amazon
Buy the Book On Barnes & Noble/Nook
Buy the Book On iBooks/iTunes
Buy the Book On Kobo

Author Bio:
Emmanuella Hristova was born in Oakland, California and grew up in the Bay Area. She is the third daughter to Bulgarian parents who immigrated to California shortly before she was born. She began drawing at the ripe age of four, and studied the fine arts for five years in high school. There, she received many art accolades including a Congressional award for her piece Boy in Red in 2009. In 2015, she received her Bachelor of Arts in Linguistics from the University of California, Berkeley. She began writing poetry at age twenty-four when she was in graduate school. She earned her Master's in Education from the same alma mater in 2017. Emmanuella spent two years as an English teacher in Richmond, California. During that time, she self-published her first poetry collection: "The Day My Kisses Tasted Like Disorder". Currently, she is writing her first novel. She speaks English, Bulgarian, Spanish and is now learning French.
Follow the author on social media:
Learn more about the writer. Visit the Author's Website
Instagram
This site contains affiliate links to products. We may receive a commission for purchases made through these links.