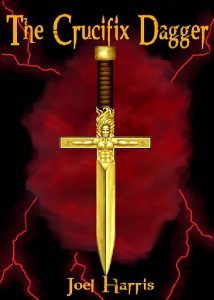 "About The Crucifix Dagger:
Father Randall's thirst for revenge began after King Joshua exiled him so many years ago. He was forced to flee the kingdom. In exhaustion and lack of hope, he had decided to lay down and die from hunger and pain. It was then that that Slynne, the Goddess of Pain, came to him whispering encouragement to live and continue on. She sowed the seeds of vengeance in his mind and protected him as he made his way to Hawk's Height.
With Slynne's help and guidance, Father Randall had been showing all in his newly adopted home the glory, magnificence, and total ecstasy of pain. Now he was ready for King Joshua and the king's son Prince Jean-Kar to die. He even hired an assassin, a Servant of the Blade, to kill the prince and retrieve the Crucifix Dagger—the key needed to bring his goddess forth from her eternal prison and spread her message around the world.
Father Randall's plans may be in danger when he learns that a necromancer, also seeking the dagger, has already made contact with Prince Jean-Kar and saved him from the Servant of the Blade. Even worse, the prince, the necromancer, and the Servant of the Blade have banded together on a journey to Hawk's Height to find and kill him. But who will control the Crucifix Dagger?
Targeted Age Group: 18
Written by: Joel Harris
Illustrated by: Samantha Harris
Buy the ebook:
Buy the Book On Amazon

Buy the Print Book:
Buy the Book On Amazon
Author Bio:
I am 49 years old and have been married to my wife Samantha for 26 years. I love to read and write fantasy books. We have no kids, but we do have 5 cats. The Crucifix Dagger is the first book I have published.
Follow the author on social media:
Facebook Fan Page
This site contains affiliate links to products. We may receive a commission for purchases made through these links.