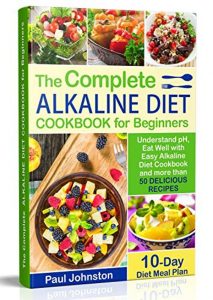 "About The Complete Mediterranean Diet Cookbook for Beginners: Complete Mediterranean Diet Guide with Delicious Recipes and a 7 Day Meal Plan:
Is it time to lose weight, get healthy, and give your family the best possible nutrition?
Do you want to live a healthier lifestyle for years to come?
Are you tired of filling your body with chemicals every time you eat processed foods?
Your journey towards a healthier life and slimmer waistline begins here and now!
Benefit from the Mediterranean diet!
Mediterranean diet represents a healthy lifestyle choice and can reduce the chance of developing conditions such as:
• heart disease
• type 2 diabetes
• high blood pressure
• obesity
• some cancers
• fibromyalgia
• Parkinson's disease
• Alzheimer's disease…
The Mediterranean diet—ranked #2 in Best Diets overall, it is high in vegetables, fruits, olive oil, and whole grains, and moderate in protein and animal fats—has proven to be beneficial in reducing the risk for diabetes, heart disease, and stroke. Now, a new study shows it may also be good for the brain. The Mediterranean diet isn't just a fad or a quick fix—it's a healthy lifestyle choice that's here to stay!
For many of us, the idea of dieting conveys unpleasant notions of flavorless piles of lettuce and overpriced freezer meals. But the secret to losing weight isn't starving yourself or eating processed "diet food." With The Complete Mediterranean Diet Cookbook for Beginners you'll begin dropping pounds immediately—and learn how to keep them off for good—by following this healthy diet packed with tasty, wholesome meals that you'll love.
Mediterranean Diet is useful for people wishing to lose weight as it is rich in fruit and vegetables and lower in sugars and saturated fats than a typical Western diet.
It can reduce the risk of a premature death and increase the chance of a healthy retirement, free from long-term medication.
Targeted Age Group: G
Written by: Paul Johnston
Buy the ebook:
Buy the Book On Amazon

Author Bio:
Hey There!
I'm Paul Johnston!
I'm a passionate foodie and a chef by profession; I enjoy writing cookbooks and recipes while bringing something new out in the light. Cooking is as creative as any form of art, and it takes as much creativity to bring all sorts of ingredients together in a delightful and flavorsome blend, just like any other great masterpiece. This is what I look for while conceiving an idea for a cookbook.
I not only write recipes for every day meals, but also strive to work on all kinds of health-oriented diet plans, including ketogenic, alkaline, anti-inflammatory, acid reflux, paleo diets, etc. These special diet plans are important for all those struggling with various healthy complexities, and it gives great pleasure that I am able to bring both good health and great flavors to the lives of such individuals. I gained my experience a bit from learning, a lot from practice, and mostly from travelling around different places and exploring new culinary cultures.
I am greatly fascinated by the cultural diversity of the world and aspire to try all possible cuisines, so that I would get to share them with all. Cooking nutritious food can be easy and fun, if we are well guided about the basics of a diet, and this is my vision as a 'cookbook writer' to be a torchbearer for those who are struggling with health problem or having a difficult time in the kitchen.
Keep following my work and help me improve my work through your honest feedback.
Enjoy!