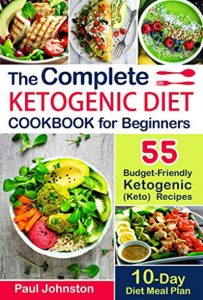 "About The Complete Ketogenic Diet Cookbook for Beginners: 55 Budget-Friendly Ketogenic (Keto) Recipes. 10-Day Diet Meal Plan:
Do you want to lose weight (and lose fat in particular)?
We all want to look gorgeous. But to make dreams come into reality, it takes a lot of determination, self-discipline, and effort.
This diet plan will be yours!
Will it be easy? – Maybe.
Worth it? – Absolutely.
With The Complete Ketogenic Diet Cookbookfor Beginners, you can eat to total satisfaction by enjoying rich, high-satiety foods, and even weather occasional slip-ups. You'll use keto as a lifelong tool to stay trim, healthy, energetic, and free from the disastrous health conditions caused by the typical American diet.
With step-by-step guidance, daily meal plans and a recipe section with over 50 delicious keto-friendly recipes, this is the definitive guide to help the keto-beginner or the experienced health enthusiast understand the what, why, and how to succeed with ketogenic eating.
The Complete Ketogenic Diet Cookbookfor Beginners contains:
• 55 Easy to Follow Recipes using five main ingredients or less for every meal
• 10-Day Meal Plan jump-starting your ketogenic diet with shopping lists and balanced meals
• A Complete Overview explaining the fundamentals of the ketogenic diet and advice for living the keto-lifestyle
• Handy Charts illustrating calories and nutritional information
• Recipes in The Complete Ketogenic Diet for Beginners include: Stuffed Whole Chicken, Malaysian Beef Curry, Pork Shoulder Chops with Au Gratin, Mushrooms Pesto Pizza, Sesame Crispbread, Vanilla Panna Cotta and much more!
• Also included is a step-by-step guide on how to slowly switch over to keto without shocking yourself or ruining the diet for yourself by being irresponsible and hasty. Slowly and surely, we will drop away one or two foods at a time until you're finally on keto. This method will make starting keto an absolute breeze.
Endorsed by the Mayo Clinic and others in the medical community, the ketogenic diet has been proven as a healthy, effective way of achieving weight loss, as it consists of low-carb, high fat foods that prompt the body to burn fat for energy instead of glucose.
In this complete ketogenic diet book for beginners, I decided to collect all necessary information about a new diet for those who want to follow it. The benefit you will gain from this book depends on you.
You are personally responsible for your health!
Targeted Age Group: G
Written by: Paul Johnston
Buy the ebook:
Buy the Book On Amazon

Author Bio:
I'm Paul Johnston!
I'm a passionate foodie and a chef by profession; I enjoy writing cookbooks and recipes while bringing something new out in the light. Cooking is as creative as any form of art, and it takes as much creativity to bring all sorts of ingredients together in a delightful and flavorsome blend, just like any other great masterpiece. This is what I look for while conceiving an idea for a cookbook.
I not only write recipes for every day meals, but also strive to work on all kinds of health-oriented diet plans, including ketogenic, alkaline, anti-inflammatory, acid reflux, paleo diets, etc. These special diet plans are important for all those struggling with various healthy complexities, and it gives great pleasure that I am able to bring both good health and great flavors to the lives of such individuals. I gained my experience a bit from learning, a lot from practice, and mostly from travelling around different places and exploring new culinary cultures.
I am greatly fascinated by the cultural diversity of the world and aspire to try all possible cuisines, so that I would get to share them with all. Cooking nutritious food can be easy and fun, if we are well guided about the basics of a diet, and this is my vision as a 'cookbook writer' to be a torchbearer for those who are struggling with health problem or having a difficult time in the kitchen.
Keep following my work and help me improve my work through your honest feedback.
Enjoy!