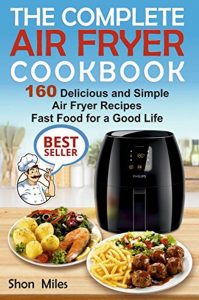 "About The Complete Air Fryer Cookbook: 160 Delicious and Simple Air Fryer Recipes Fast Food for a Good Life:
Help yourself to new forward-looking technologies: hot air instead of fat! Just buy this book, and you will never choose between tasty and healthy food. I promise.
Eating healthy can be one of the most gastronomically fulfilling things with the right tools and recipes.
The air fryer, has made waves in the past year or so as an alternative to conventional fryers. And for a good reason: aside from giving you an opportunity to indulge in your favorite fried foods without the guilt, air fryers are also easy to use, easy to clean up, and are quite versatile when it comes to dishes. Some users even purchase more than one.
That said, if you're looking to delve into this new innovation, this cookbook is here to help you along the way.
In this Complete Air Fryer Cookbook we'll be talking more about some air fryer basics, as well as provide 160 Delicious and Simple Air Fryer Recipes for each occasion where you can try it out.
Your reasons to buy this book:
• This cookbook contains 160 of the best, delicious, proven recipes for breakfast, lunch or dinner.
• All recipes are really healthy, with low fat and low carb.
• With our recipes, you will lose weight or maintain a healthy weight and normal cholesterol.
• All recipes are easy to follow. They are suitable for everyday menus.
• All recipes have clear and well-defined instructions.
• All recipes contain available ingredients.
• The book has colorful photos of cooked dishes.
• All dishes are really delicious; they just melt in your mouth.
• This book is your reasonable choice.
After all, now you're given a chance to upgrade your lifestyle, now you can cooking Fast Food for a Good Healthy Life, let's do it together!
Targeted Age Group: G
Written by: Shon Miles
Buy the ebook:
Buy the Book On Amazon

Author Bio:
Shon Miles is an American chef and author and recipe developer who specializes in helping people change their relationship with food and create delicious, healthy habits.
Author of several cookbooks, Shon Miles is the king of taste! Shon is best known for her many different cookbooks in both book and e-book format, including Complete Air Fryer Cookbook, Complete Instant Pot Recipes Book: 100 Simple and Budget Friendly Recipes, Indian Instant Pot Cookbook etc. Many of his books have been best-sellers!
Follow the author on social media:
Learn more about the writer. Visit the Author's Website