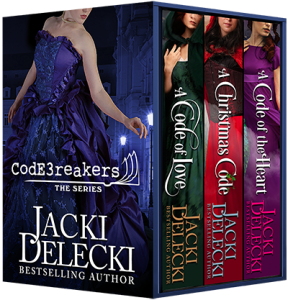 "About The Code Breakers Series Boxed Set:
Men and women from the class of privilege and rank risk their lives to defend England against the treacherous designs of Napoleon. They confront disaster, scandal, and passion as they pursue their code of honor and love.
Book One: A CODE OF LOVE
Threatened by French spies, assassins, and calculating suitors, can Lady Henrietta Harcourt trust the infamous rake, Lord Cordelier Rathbourne, with her carefully guarded family secrets?
Book Two: A CHRISTMAS CODE Lady Gwyneth Beaumont has long awaited the opportunity to show Viscount James Ashworth that she is no longer the impetuous child who dogged his footsteps. Now a much sought-after debutante, she is determined to prove to the hard-headed rake that she is a grown woman and a worthy participant in both the spy game and the game of love.
Book Three: A CODE OF THE HEART When Miss Amelia Bonnington unwittingly stumbles upon a smuggling ring in the modiste shop of her good friend, it is up to Lord Derrick Brinsley to save her. Can the disreputable rake and undercover agent prevent the French from stealing the Royal Navy's deadly weapon and find love with the only woman capable of redeeming him?
Buy the ebook:
Buy the Book On Amazon
Buy the Book On Barnes & Noble/Nook
Buy the Book On iBooks/iTunes
Buy the Book On Kobo

Author Bio:
Jacki Delecki is a bestselling romantic suspense author whose stories are filled with heart-pounding adventure, danger, intrigue, and romance. The CODE BREAKERS, Delecki's Regency romantic suspense series, is set against the backdrop of the Napoleonic Wars. Many of the storylines are inspired by factual events and fascinating details Delecki discovers while researching this period in history, which infuses her emotionally compelling stories of honor, passion and loyalty with vivid, authentic detailing. When not writing, Delecki volunteers for Seattle's Ballet and Opera Companies, and leads children's tours of Pike Street Market.
Follow the author on social media:
Learn more about the writer. Visit the Author's Website
Facebook Fan Page
Twitter
This site contains affiliate links to products. We may receive a commission for purchases made through these links.