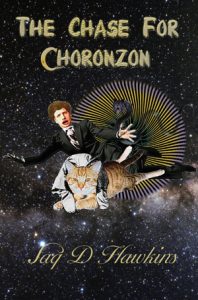 "About The Chase for Choronzon:
A zany chase through time and space and between the worlds to put the universe back in order, if they live to accomplish their task!
The demon Choronzon was supposed to keep the gate between the worlds, but he has abandoned his post and it's up to two reincarnated magicians, Karl Spare and Alei-Cat, to capture him and return him to his post.
A romp through time and space takes these two unlikely heroes through some harrowing portals and surreal adventures where they meet a variety of bizarre personages along the way, but there can be only one finale to the chase for Choronzon!
Targeted Age Group: 12-adult
Written by: Jaq D Hawkins
Illustrated by: Pamela Mandeville
Buy the ebook:
Buy the Book On Amazon

Buy the Print Book:
Buy the Book On Amazon
Author Bio:
Jaq D Hawkins was originally traditionally published in the Mind, Body, Spirit genre, but moved to indie publishing soon after releasing her first Fantasy fiction novel. She is the author of The Goblin Trilogy (Dance of the Goblins, Demoniac Dance, Power of the Dance) as well as The Wake of the Dragon, the first book in the Airship Mechanoids Steampunk series. A new series featuring a female Alchemist protagonist is due to appear in 2019.
Follow the author on social media:
Learn more about the writer. Visit the Author's Website
Facebook Fan Page
Twitter
This site contains affiliate links to products. We may receive a commission for purchases made through these links.