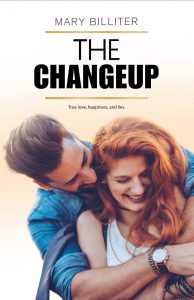 About The Changeup by Mary Billiter:
The Feds changed her name, occupation, and location, but Cupid and crime still found her. Both Witness Protection and her position as a hotel conference services manager require Rebel Roberts to maintain a low profile. But when she finds herself at the center of high crime and high romance at the high-rise Point Resort in Long Beach, even the best-laid plans are subject to change.
Former college baseball pitcher Ryan McHenry plans on becoming a deputy sheriff like his late uncle. But when Rebel literally stumbles on a dead body by her hotel, helping her change the narrative may throw a curve in his career plans.
Can Rebel and Ryan find true love and happiness with so many lies between them?
Buy the ebook:
Buy the Book On Amazon
Buy the Book On Barnes & Noble/Nook
Buy the Book On Smashwords

Author Bio:
Mary Billiter is the award-winning author of the highly acclaimed resort romance series, which she wrote on her cell phone while she was undergoing breast cancer treatment.
Her resort romance series are romantic comedies because they are not only based on her life in the hospitality industry, but also many of the romantic misfires in her life, which could either be viewed as a comedy or a tragedy. But she'd rather look back and laugh instead of cry about the past.
She also has novels published under the pen name, "Pumpkin Spice."
In July 2018, Mary was awarded "Top Female Author 2018" by The Authors Show for "Spirited Away."
Mary resides in the Cowboy State with her unabashedly bald husband, her four amazing children, two fantastic step-kids, and their runaway dog. She does her best writing (in her head) on her daily runs in wild, romantic, beautiful Wyoming.
Follow the author on social media:
Learn more about the writer. Visit the Author's Website
Facebook Fan Page
Twitter
Instagram
This site contains affiliate links to products. We may receive a commission for purchases made through these links.