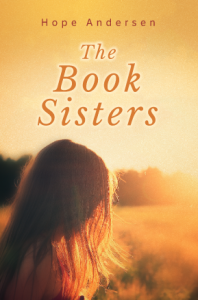 About The Book Sisters:
"The six Book sisters of Iowa—Victoria, Veronica, Violet, Vera, Virginia, and Viveca—spent their girlhoods on their parents' farm during the tumultuous years of the 1960s. Victoria is a piano prodigy and church organist who runs off to experiment with drugs and accidentally have a Black Panther's baby. Veronica, or "Ronnie," is an animal-loving tomboy who eschews inheriting the farm in favor of becoming a veterinarian. The sickly Violet is her mother's favorite, acutely aware of her position in the family and willing to scheme to maintain it. Vera is a young writer, always observing and taking notes, who pitches her first story at age 8 to a New York publisher who stops at her lemonade stand. Virginia is the beautiful one, adored by all, who picks up smoking at the age of 10 in order to be more fashionable. Viveca, a girl of faith, falls asleep in the barn one Christmas waiting for Baby Jesus to arrive. The book follows the sisters in childhood and far beyond—through first loves, addiction, marriages, children, national tragedies, and the losses of their parents, spouses, and each other. Andersen writes in an effortlessly sunny prose, its placidity belying its keen wisdom and emotional depth: "Violet was the apple of Valley's eye. She was a rare grape, silky and smooth with a pronounced taste. She was an armful of fragrant purple lilacs. She was sweet rose water." Each sister is wonderfully distinct, her individual quirks, adventures, and relationships recorded with lyricism and great humor. The author impressively captures that intangible mythic quality of large families that informs and ensnares their members. Vera—the author's stand-in—is particularly vivid in her role as historian and secret keeper. While the childhood sections are strongest, the book gets progressively affecting as the decades slip by and life exacts its toll from the various "chapters" (as their mother calls them). This heartwarming portrait of a Midwestern farm family is also a succinct chronicle of American womanhood in the second half of the 20th century. A beautifully composed novel of individuality within sisterhood." Kirkus Review
Buy the ebook:
Buy the Book On Amazon

Author Bio:
Hope Andersen is a graduate of Wellesley College (B.A) and Yale Divinity School (M.A.R.). She began writing novels in 2015, at the age of 60. Her debut novel The Book Sisters was released in November 2017. Two subsequent works, When the Moon Winks (women's fiction) and An Accidental Thief (YA), are seeking representation. She has published both stories and poems. In her early career, she was awarded the Wellesley College Playwriting Award for her one-act play Room, later produced at the Lyric Stage, Boston. Ms. Andersen served as a teaching assistant for George Garrett at the Stone Coast Writer's Conference in Maine. She has worked intermittently over the years as a newspaper critic, a ghostwriter, an editor, a teacher, and a screenwriter. A native New Englander, she now lives in North Carolina with her husband Thom. They have three grown children, two dogs, a cat and a fish.
Follow the author on social media:
Learn more about the writer. Visit the Author's Website
Facebook Fan Page
Instagram