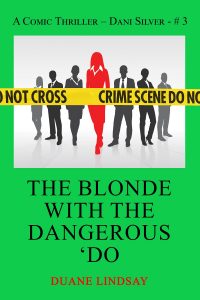 About The Blonde With the Dangerous 'Do:
Somebody's trying to kill Dani Silver.
After a vicious attack, Dani has to recover, then find a way to get even with a pair of crooks. Her one advantage–the think they succeeded.
Dani brings in the usual gang–Cincinnati Bob, the forger, Sammy the computer hacker, Patty Kreel and Merle Crookshanks and the ACE, as well as a pair of newcomers from TAP DOUBT–Felina Collazzi and…Nick Kuiper, her long lost love.
Dani's got an idea–maybe her oddest one yet–to convince the bad guys that she's not just dead–she's come back to haunt them.
Can Dani and crew take out a multi-million-dollar land scam? Will she and Nick finally get back together?
Find out in…The Blonde with the Dangerous 'Do.
Buy the ebook:
Buy the Book On Amazon

Author Bio:
I wrote my first novel in college at the University of Wyoming, played lead guitar in Pinky's bar as a member of "Suzy Q and the Quad City Ramblers," Got an English degree, then an engineering degree, worked a lot, got married to Traci (probably the best thing to ever happen), wrote several books with Raymond Dean White, retired recently from said engineering and started writing again.
Now I write cheerfully demented novels about con artists and overweight PIs, play guitar a lot (on a very well used and loved 1954 Martin D-18 (for those of you who have guitar lust—centerfold picture available on request) and generally am having the best retirement ever.
For more information, go to www.duanelindsay.com.
Follow the author on social media:
Learn more about the writer. Visit the Author's Website
Facebook Fan Page
This site contains affiliate links to products. We may receive a commission for purchases made through these links.