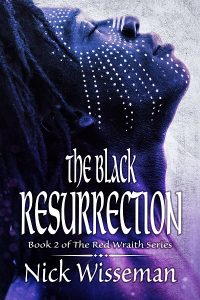 "About The Black Resurrection:
Isaura's son has been kidnapped. Worse, his kidnappers are taking him to Huancavelica, a Peruvian mercury mine so dangerous it's known as the "Mine of Death." Her only ally is Amadi, a runaway slave haunted by guilt he refuses to explain. Her only choice is to beat the kidnappers to Huancavelica and lay a trap … assuming she can survive the mine herself.
The Black Resurrection is a standalone sequel to The Red Wraith, a historical fantasy set in Early America
Targeted Age Group: Adult
Written by: Nick Wisseman
Buy the ebook:
Buy the Book On Amazon
Buy the Print Book:
Buy the Book On Amazon
Author Bio:
Nick Wisseman lives in the woods of Michigan with his wife and daughter, ten dogs, sixty cats, and forty horses. (The true number of pets is an order of magnitude smaller, but most days it feels like more.) He's not quite sure why he loves writing twisted fiction, but there's no stopping the weirdness once he's in front of a computer. You can find the complete list of oddities on his website.
Follow the author on social media:
Learn more about the writer. Visit the Author's Website
This site contains affiliate links to products. We may receive a commission for purchases made through these links.