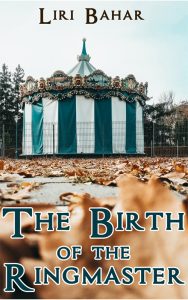 "About The Birth of the Ringmaster:
For Eighteen years old Cassandra, The Golden Circus is everything. It's where she was born, it's where she grew, it's where she belongs. When she and her father losing their job, she can't except the fact that she is no longer relevant for the show business.
So when they come across Magnificent Circus, Cassandra believe that she had found her new home. But there is something odd about this circus. They have almost no idea how to talk, their acts are dreadful, and even those who grew tired of running refuse to leave. What at first seems like an amateur choice, later turned to be a calculated plan. And Cassandra decisions are going to cost her those she loves.
Targeted Age Group: 16+
Written by: Liri Bahar
Buy the ebook:
Buy the Book On Amazon

Author Bio:
Liri Bahar was born in the holy land in 1998, and ever since couldn't stop dream. Over the years She has found different ways to express her stories- using art, acting, and of course, writing. When she was 14 years old she post her own writing blog written in Hebrew for two years and published fanfics on Fanfiction.net under the name MeAndI63.
Follow the author on social media:
Learn more about the writer. Visit the Author's Website
Twitter
This site contains affiliate links to products. We may receive a commission for purchases made through these links.