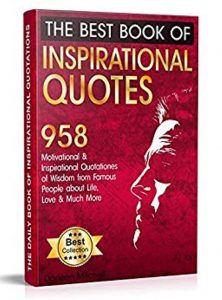 "About The Best Book of Inspirational Quotes 958 Motivational and Inspirational Quotations of Wisdom from Famous People about Life, Love and Much More:
This is an extraordinary collection of the most inspirational quotes from around the world and throughout the history. The wisdom on these pages will empower and encourage you to live your life to the fullest. Start each day with a powerful dose of wisdom and inspiration as you are guided to take actions, overcome fear, boost your self-esteem, create success, enjoy life and make your dreams come true. This book makes a perfect, unique gift for everyone. Your friends and family will be able to learn a lot from this collection of wisdom, strength of character and passion written by extraordinary men and women. Some of the highlighted leaders are on the pages of this masterpiece, including: Roy T. Bennett, the author of "The Light in the Heart", he loves sharing positive thoughts and creative insights that has helped countless people to live a successful and fulfilling life, C. Joybell C ,the author of "The Sun Is Snowing", is a leading female "Mentor" and Inspirational Figure to a many modern-day leaders as well as to people in search. Abraham Lincoln, Ben Franklin, Winston Churchill, Jack London, Edgar Allan Poe, Henry Ford and many others will guide you through your amazing adventure.
Targeted Age Group: G
Written by: Darleen Mitchell
Buy the ebook:
Buy the Book On Amazon

Author Bio:
Darleen Mitchell had collected quotes and aphorisms of the most famous, outstanding, bright, brave and strong women of our world, whose talent and belief in themselves have changed it for better. There are a lot that we can learn from these women.
This site contains affiliate links to products. We may receive a commission for purchases made through these links.