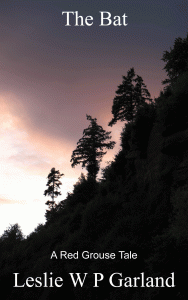 "About The Bat (A Red Grouse Tale):
The Bat – a coming of age story involving a search after truth, doubt and a bat!
An adult, speculative, spiritual and philosophical coming of age story – involving a search after truth, doubt and a bat! – which contains a hint of the supernatural – though in this modern fairy or folk tale the fantastic doesn't happen in some remote fantasy world, but right here in this one, in very ordinary, almost everyday circumstances. One for those who like to think about what they are reading.
Thomas looks back on the events of his last term at school when his class returned to a new beautiful class teacher, a donation of stuffed animals and birds by an eccentric benefactor which he and his friends subsequently discovered weren't quite as dead as they looked, an exorcism in which a bell-jar which had contained a bat shattered, and then things, which up until then had been strange, turned to being sinister and frightening. What was true? What was the Truth? And of course, where was the bat?
(Warning to sensitive readers; the story is an adult one and so does contain references to sex)
Targeted Age Group: Adult
Written by: Leslie Garland
Buy the ebook:
Buy the Book On Amazon

Author Bio:
Leslie Garland was born in 1949, qualified as a Chartered Civil Engineer and worked for several years on projects in the UK, the Far East and Africa. During this period he won the Institution of Civil Engineers "Miller Prize" for a paper on tunnelling. Changing times resulted in a change in direction and after qualifying as an Associate Member of both the British Institute of Professional Photography and the Royal Photographic Society he started his own stock photograph library and wrote for the trade press. An unexpected break in his Internet connection fortuitously presented the time to make a start on a long cherished project of a series of novella length stories, and the first story of "The Red Grouse Tales", was drafted. Three more tales have followed and he is now working on a second batch of tales. He lives with his wife in Northumberland, England.
Follow the author on social media:
Learn more about the writer. Visit the Author's Website
Twitter
This site contains affiliate links to products. We may receive a commission for purchases made through these links.