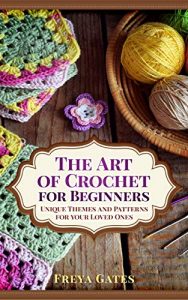 "About The Art of Crochet for Beginners:
The Art of Crochet for Beginners will guide you through the entire journey, from buying your first materials to weaving your first pattern. This book is the perfect introduction to your beloved hobby. Inside you will discover:
How to gear up with the tools of the trade so that you know what you are looking for
A gentle progression from foundation stitches to simple projects so that you really get the hang of crocheting
Learn how to read patterns by understanding the special vocabulary used in the crocheting world
30+ unique themes and patterns that are fun to make for your loved ones as precious gifts
and much, much more!
You'll love the results, because the joy that working on these projects brings to you and your young ones, makes all the difference in the world.
Targeted Age Group: 16 – 85
Written by: Freya Gates
Buy the ebook:
Buy the Book On Amazon
Author Bio:
Freya Gates is a teacher with a decade of experience working with children with special needs. She currently lives in Florida. Developing Emotional Intelligence for Kids in 5 Steps is her debut book. She is currently blessed with having a personal project of her own named Logan who is seven months old and counting.
This site contains affiliate links to products. We may receive a commission for purchases made through these links.