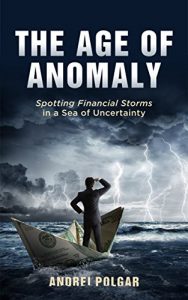 About The Age of Anomaly:
When an economist who became famous for his balanced research-backed views like Andrei Polgar of One Minute Economics sees storm clouds gathering, it's time to pay attention! The Age of Anomaly is a no-nonsense guide to spotting the next financial crisis and becoming more resilient in general.
Buy the ebook:
Buy the Book On Amazon
Buy the Book On Barnes & Noble/Nook
Buy the Book On iBooks/iTunes
Buy the Book On Kobo

Author Bio:
I'm an economist as well as an online entrepreneur and an investor who specializes in exotic assets such as domain names.
This site contains affiliate links to products. We may receive a commission for purchases made through these links.