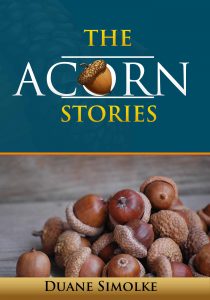 "About The Acorn Stories: Texas Humor and Drama:
From romantic comedy to razor-sharp satire to moments of quiet reflection, The Acorn Stories transform a fictional West Texas town into a tapestry of human experiences.
"A lush tangle of small-town life branches out in this engrossing collection of short stories." –Kirkus Reviews
"There are people that you like, some that you can't wait to see if they get theirs." –Joe Wright, StoneWall Society
"A well-crafted collection of short stories." –L. L. Lee, author of Taxing Tallula
"Duane Simolke is one of our great American writers just ready to be recognized as such. He has the talent and the imagination and the humanity and the perspective to make each of our lives richer. Bravo!" –Grady Harp, Amazon Hall of Fame Reviewer
"Each story is intertwined rather than just there for entertainment and each character is well-defined and the humor throughout the book makes it a pleasure and an easy and enjoyable read." –Chandler, Amazon #1 Hall of Fame Reviewer
"The author demonstrates a healthy understanding of human nature." –John H. Mangold
Buy the ebook:
Buy the Book On Amazon
Buy the Book On Barnes & Noble/Nook

Author Bio:
Duane Simolke wrote The Acorn Stories, Degranon, Holding Me Together, and New Readings of Winesburg, Ohio. He also edited and co-wrote the spin-off The Acorn Gathering, donating that book's royalties to the American Cancer Society. Simolke lives in Lubbock, Texas, and received a Ph.D. in English from Texas Tech University.
Follow the author on social media:
Learn more about the writer. Visit the Author's Website
Twitter
This site contains affiliate links to products. We may receive a commission for purchases made through these links.