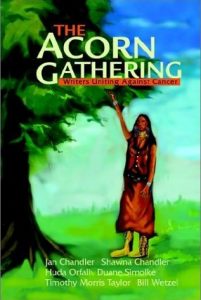 "About The Acorn Gathering: Writers Uniting Against Cancer:
From a scandal-rocked town in West Texas to the Blackfeet Indian reservation in Montana, these short stories take readers to surprising places in America and the human heart. Fiction by Jan Chandler, Huda Orfali, Duane Simolke, Timothy Morris Taylor, Shawna R. Van Arum, and Bill Wetzel. Edited by Duane Simolke. All royalties go to fighting cancer.
Buy the ebook:
Buy the Book On Amazon
Buy the Book On Barnes & Noble/Nook

Author Bio:
Jan Chandler lives in Austin with her husband and two children. She writes Juvenile, Science Fiction, Fantasy, Erotica and Poetry. She is currently juggling six unfinished novels, a new career, and an obsession with video games.
Shawna Chandler (now Shawna R. Van Arum) is a writer whose mind wanders between the confines of time and space even as her body is chained to a desk in Lubbock, Texas. A full-time mother and part-time literary adventurer, Shawna has contributed to All Write Stuff, Zoetrope, The Peralta Press, 3AM Magazine, The Journal of the Blue Planet, Coil Magazine, The Lubbock Magazine, and other print or online publications.
Huda Orfali's collections of poetry and short stories explore the complexities of human society. She published her books Blue Fire in 1999, Flower in The Cold in 2000 and Fisher Prince in 2006. Having grown up in the Middle East, an area torn apart by war and violence, Orfali focuses her intense poetic scrutiny on the terrors of war and the struggle for peace. The creative impulse for the poems is equally idealistic and humanitarian for the large part. Her poems are predominantly concerned with social and political issues that contribute to universal well being and to the common good. Orfali is a graduate of Peace Studies and Conflict Transformation. She received her MA from Bradford University, UK and was also a Fulbright scholar at Eastern Mennonite University, Harrisonburg, VA.
Duane Simolke edited The Acorn Gathering and wrote four of its stories. His books include Degranon: A Science Fiction Adventure and the critically acclaimed West Texas fiction collection The Acorn Stories. Some of the characters in The Acorn Gathering first appeared in The Acorn Stories, but The Acorn Gathering strictly stands alone.
Timothy Morris Taylor is an elementary special education resource teacher in Texas. He is a life-long, devoted fan of movies, music, and the arts. A period of time as a classic film projectionist at a historic movie theater in Texas was one of the great highlights of his life. Because of the personal loss of a loved one to cancer, Timothy is a strong advocate of the race to find a cure. He lives in Houston with his two cats.
Bill Wetzel is an enrolled Blackfeet Indian and a native of Cut Bank, Montana. He received his A.A.A. in Video Production from the Art Institute of Seattle (Fall 2001) and is, currently, a Creative Writing major at the University of Arizona. He is a published poet and has worked on various video and film projects. Wetzel was the 2001 AIS Student Show winner in Video Production for his efforts as Assistant Director and Co-Screenwriter on the short digital film Claustromania. He is currently researching his first novel, as well as working on several short stories and a screenplay idea. He has written for the Arizona Daily Wildcat and Red Ink Magazine. His essay about Blackfeet Indian author James Welch will be in the Studies In American Indian Literature series.
Follow the author on social media:
Learn more about the writer. Visit the Author's Website
Twitter
This site contains affiliate links to products. We may receive a commission for purchases made through these links.