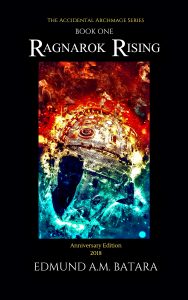 About The Accidental Archmage: Book One – Ragnarok Rising:
An epic fantasy in another world – with a modern twist. Explore a magical realm whose Earth's ancient deities exist – from the Nordic gods, Sumerian deities, the Aztec pantheon and a host of other powerful beings. Meet hungry creatures of myth and lore. Say hello to legendary dark monsters and primordial beings. Escape deceitful plots and schemes. Your heart and flesh are the least you could lose. Oh, if you're from Earth, you've got no magic in your bones. DO SURVIVE.
Buy the ebook:
Buy the Book On Amazon

Author Bio:
Active member, Science Fiction and Fantasy Authors of America (SFWA)
A Goodreads author.
Writer – The Accidental Archmage series, the Manus Dei series, and the Arcanum Astray series.
Follow the author on social media:
Learn more about the writer. Visit the Author's Website
This site contains affiliate links to products. We may receive a commission for purchases made through these links.