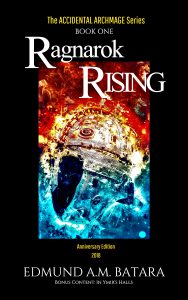 "About The Accidental Archmage: Book One – Ragnarok Rising:
Updated ANNIVERSARY EDITION (December 2018). With bonus content – "In Ymir's Halls" (short story)
An epic fantasy on another world. With a modern twist.
What if you fell through a crack in reality? Like those people disappearing in plain sight you have read about.
What if you find yourself in a strangely familiar world? A world full of Earth's mythological beings, lost civilizations, and people from its primitive and brutal past? Where magical energy still exists. Where gods play games among themselves, with the fate of mortal men as pawns. A land where a sword is deadlier than a five-inch thick contract drawn by a hotshot lawyer. Would you survive?
That's Tyler West. Alone, lost and bewildered, the three moons in the sky made it clear he wasn't on Earth anymore. It is not a game. It's real. And there's no coffee, pizza, fries, or his favorite show on HBO.
Targeted Age Group: young adult and up
Written by: Edmund A.M. Batara
Buy the ebook:
Buy the Book On Amazon
Buy the Print Book:
Buy the Book On Amazon
Author Bio:
Active Member, Science Fiction and Fantasy Writers of America (SFWA)
A Goodreads Author
Writer – The ACCIDENTAL ARCHMAGE Series, the ARCANUM ASTRAY SERIES, PLANAR WARS Series, and the MANUS DEI Series.
Fantasy and science fiction have always been my favorites. I grew up with the stories. Especially those from the era of dime novels and genre magazines, the time when both fields were deemed fringe areas of fiction. Stories that spark the imagination and bring a reader to worlds and concepts beyond his reality. Though I have to admit, fact is fast catching up with fiction.
There are innumerable worlds out there. Explore, let your imagination fly. Unlike the protagonists in the stories, there is no dark Elder god, a tentacled monstrosity, a stabby assassin, a vampire or ten, or a vengeful deity waiting outside your door. Nor will opening a book suck you into a separate dimension. Maybe.
Enjoy the voyage. Have fun.
Follow the author on social media:
Learn more about the writer. Visit the Author's Website
Facebook Fan Page
This site contains affiliate links to products. We may receive a commission for purchases made through these links.