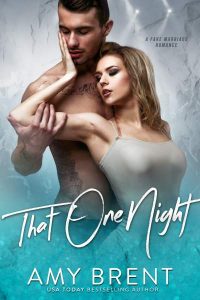 About That One Night:
Sam Weis wants to marry me?
It's one way to get that crazy b$tch off my back.
But Sam? That's playing with fire.
A bad boy Rockstar with melting eyes and that dimpled cocky grin.
I wasn't going to say no.
It was one long hot steamy night.
My hands in his tousled hair, his lips so hungry on my skin…
I broke it off the next day, but I haven't forgotten.
His wounded gaze still eats up my soul.
And now he's proposing marriage to save my ass.
It's just business, right?
We won't forget it's pretend.
Will we?
Buy the ebook:
Buy the Book On Amazon

Author Bio:
Amy writes hot, spicy romances that feature gorgeous alpha men who love to protect their women. Amy's heroes are rough, hot, bad boys and billionaires who possess that soft heart a woman definitely yearns for.
This site contains affiliate links to products. We may receive a commission for purchases made through these links.