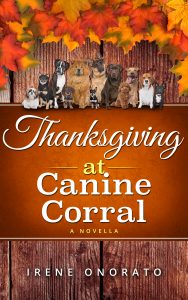 "About Thanksgiving at Canine Corral:
Tanzy Meadows works hard to keep the Canine Corral, her no-kill shelter for dogs, financially afloat. She provides the animals' needs, often neglecting her own, and strives to find a forever home for them. But her problems mount when the city council threatens to put her out of business, and a close friend develops a life-threatening condition.
Tanzy is smitten by Jake Strickland, a mysterious but handsome new arrival in town. Graphic designer and computer guru by trade, Jake revamps her shelter's web page, helps bring in much-needed funds, and provides innovative ways to find her dogs loving homes.
But will Jake be the one person she can share her hopes, dreams, and future with? Or is he hiding something? Underneath his charming demeanor lurks mystery Tanzy can't understand. Will this side of him turn out to be a blessing, or will his reticence tear them apart?
Targeted Age Group: 14-64
Written by: Irene Onorato
Buy the ebook:
Buy the Book On Amazon
Buy the Print Book:
Buy the Book On Amazon
Author Bio:
Irene Onorato was born and raised in Bronx, New York. In 1972, a few months after graduating high school, Irene met James Onorato, a soldier who had just returned from Vietnam. After dating two weeks, they married, raised three children, and are still happily married today. Irene and James live in Louisiana with their two cats and a dog who was rescued by the Cajun Navy during the great flood of 2016.
Follow the author on social media:
Learn more about the writer. Visit the Author's Website
Facebook Fan Page
Twitter
This site contains affiliate links to products. We may receive a commission for purchases made through these links.