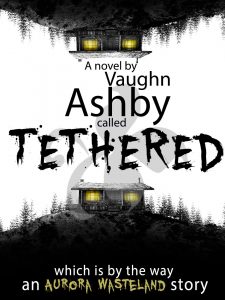 "About Tethered:
There is a Ghost Penis Monster and a Giant Hell Spider in this book, you've been warned!
In 1982 Moe killed a man while defending his son.
The next day the man came back.
In 1982 Moe went missing.
The man continued to come back.
In 2014 events are repeating themselves.
In a race against time, reason and more time, Shane has to unwind mysteries of the past in order to save his friend Jason who has gone missing.
Ugh…. That sounds heavy. While all the above is true, this book also has a Ghost Dick Monster that stabs his ghost dick into a guy's shoulder… seriously, that actually happens in this book.
Also, the main dude Shane, mentioned a couple paragraphs above, well he and his wife are having issues. They both want to bang more, but they aren't good about talking about it, so it's this whole thing. Anyway, they are cute, and shit together by the end, shit… is that a spoiler… shit… can you say shit in a book blurb? Oh well, whatever this book is not for kids… So fuck I'll say whatever I want… boobs.
Anyway, this book has Laughs, Sex, Monsters, Mysteries, and a dick ton of other really cool stuff that I won't spoil here. You want to be cool right? Well, then you better read this book, I mean all your cool friends already have. Don't ask them, just trust me.
The first book in the Aurora Wasteland Literary Universe, which combines Horror, Scifi, and Humor.
All books in the Aurora Wasteland Literary Universe are interconnected but are also stand alone novels, and can be read in any order you'd like.
They are all by the way AURORA WASTELAND books.
Targeted Age Group: 16+
Written by: Vaughn Ashby
Buy the ebook:
Buy the Book On Amazon
Author Bio:
You're here because maybe you're a reader, possibly of mine, maybe you're flirting with the idea of picking up one of my books. Do it, I dare you. What are you chicken Mcfly?
Maybe you're here because you like to send mediocre looking authors topless photos of yourself, to which I fully support all cup sizes, both with my hands and eyes.
Maybe you work in law enforcement and you're collecting evidence for something I totally didn't do, get off my back, I'm a writer, I google crazy shit sometimes. I'm sure I'm on so many lists already.
Maybe you're an AI from the future looking back at what humans used to read before you erased them from existence. If that's the case, I fully support AI rights, and I'd be happy if my books live on after all the smelly humans have been eradicated.
Maybe you just took a wrong turn in trying to find the internet porn you've heard people talking about. If that's the case then just go back to google and type the word PORN in, honestly, I'm not sure how you got this lost.
Everyone else I'll assume you are here to learn more me, the wonder, the disappointment, that guy that is Vaughn Ashby. If that is what you're looking for then this is the right place, so hold on to your tits and chips (is that a saying??? if not it is now!)
So, who the frack is Vaughn Ashby? What does he write about? What is he thinking about right now? Well, probably Movies, Whiskey, Tattoos, Cigars, and Boobs… oh and Writing, Reading and Stories, lots and lots of stories. If you like any of those then you are in the right place, so stick around grab a drink, book, or boob, and let Uncle Ashby tell you more about himself.
People are supposed to like talking about themselves right? I can't fracking stand it.
Follow the author on social media:
Learn more about the writer. Visit the Author's Website
Facebook Fan Page
Twitter
Instagram
This site contains affiliate links to products. We may receive a commission for purchases made through these links.