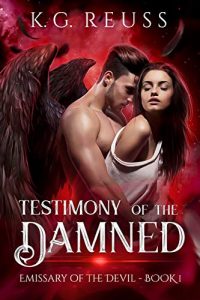 "About Testimony of the Damned (Emissary of the Devil, Book 1):
I am not a good man.
Wait, that's a lie. I'm not even a man anymore. Signing away my eternity to the Devil kind of erased what makes me human. Corrupting and collecting souls is my job now. The perks are good–fun, sin, highs, sex, and climbing the demonic ranks of the lower kingdom.
Now, I'm only one soul away from becoming a crowned prince of hell. My goal for the past four centuries. The one soul I'm assigned to corrupt is Nephilim-born Maggie Westbrook–a shy, beautiful seventeen-year-old who has no idea who or what she is.
Easy as sin, right?
Wrong. She turns my world upside down and tears down walls I've been erecting for centuries, leaving me raw, exposed, and feeling–feeling things I didn't even know I was capable of feeling. Ever again.
How can I get the only thing I've ever wanted without hurting her?
I am not a good man. It's important that I repeat that. I am the demon Abraxas Shepherd. And this is my Testimony of the Damned.
Trigger Warning: Testimony of the Damned contains dark subject matter and may not be appropriate for all audiences. Reader discretion is advised.
Targeted Age Group: 18+
Written by: K.G. Reuss
Buy the ebook:
Buy the Book On Amazon
Author Bio:
K.G Reuss was born and raised in northern Michigan. She currently resides there with her husband, her children, two dogs, a cat, and a few ghosts. K.G. is the author of The Everlasting Chronicles series, Emissary of the Devil series and The Chronicles of Winterset series.
When K.G. Reuss isn't pursuing her love for reading and writing, she is working in emergency medicine.
Follow the author on social media:
Learn more about the writer. Visit the Author's Website
Facebook Fan Page
Twitter
Instagram
This site contains affiliate links to products. We may receive a commission for purchases made through these links.