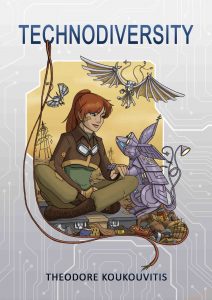 "About Technodiversity:
Born on a blasted world where mechanical creatures form spontaneously in the wake of interstellar apocalypse, Rem of the Recycle Canyon must scour laser-lit landscapes for lost knowledge and rip technocreatures apart for scraps of ancient technology.
But when she decides to set her first catch free, Rem disturbs the ancient balance between her people and their spacefaring relatives who crave her world's riches, finding herself in a post-biological world of trouble.
Rem's defiance against the so-called "gods of hell-space", and her surprising affection towards her world's technocreatures, kick off an explosive misadventure that will challenge her convictions and test every skill she doesn't believe she has.
Will she rise above age-old prejudices, outsmart a computer-god, keep her feelings for a charming but suspicious outsider under control, reach the mythical Hologram Valley and survive its secret?
If so, she might succeed where legendary heroes of old failed and discover the impossible solution to protect her world's technodiversity… and perhaps even find love in the unlikeliest of places.
Otherwise, she might leave her last breath under a techbeast's chassis — or worse — find herself banished in hell-space!
Check out Technodiversity, a fresh science fiction adventure that combines a sophisticated narrative in the vein of traditional sci-fi classics with breathtaking action, whirlwind romance, and spunky humor.
Targeted Age Group: Young Adults
Written by: Theodore Koukouvitis
Illustrated by: Catilus
Buy the ebook:
Buy the Book On Amazon

Author Bio:
Theodore Koukouvitis is an independent researcher, business consultant, and published author with several non-fiction eBooks and thousands of articles across several industries.
Driven by a deep interest in all things scientific and a passion for "what ifs", he has been writing science fiction stories since his late teens, creating improbable yet scientifically plausible worlds.
In his professional career, he has helped several startups take off and aided various established businesses in reinventing themselves. He has also created a series of articles that helped improve disability services at a major airport in the US.
Theodore is also considered one of the world's most sought-after writers of executive resumes and biographies for senior business leaders and Fortune 1000 executives, with over 450 executive resumes completed to date.
Follow the author on social media:
Learn more about the writer. Visit the Author's Website
Twitter