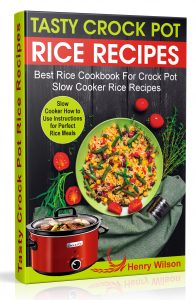 "About Tasty Crock Pot Rice Recipes: Best Rice Cookbook For Crock Pot. Slow Cooker Rice Recipes (+ Slow Cooker How to Use Instructions for Perfect Rice Meals):
MASTER YOUR SLOW COOKER WITH EASY AND TASTY 100+ RICE RECIPES FOR YOU AND YOUR LOVED ONES!
Slow cookers are widely used in kitchens across the globe and have various benefits ranging from super tasty food to numerous health advantages.
This book is your guide for rice cooking with a crockpot or a slow cooker. There are various recipes and guidelines for using your device. This book will offer you an understanding of how the crockpot or the slow cooker works, its different components, and how to use it in the most effective way possible.
By the end of this book, you will master the art of rice cooking with a slow cooker/crockpot and be able to prepare the finest recipes for your loved ones:
• Rice recipes for different types of rice
• Tasty rice and chicken recipes
• Rice and meat recipes
• Healthy vegan rice recipes
• Beans and rice recipes
• Coconut rice recipes
• Risotto recipes
• Easy Mexican rice recipes
• Simple Asian rice recipes
• Soups with rice
• Desserts with rice
• Kid-friendly rice recipes
Targeted Age Group: 16+
Written by: Henry Wilson
Buy the ebook:
Buy the Book On Amazon

Author Bio:
Henry Wilson is a cook with extensive work experience of more than 15 years in USA restaurants.
He uses both traditional ways of making dishes, and advanced techniques using rice cooker, instant pot.
It allows him to achieve the maximum result in a short time. Henry likes to share his experience with others. Especially rice recipes. Because his wife has Chinese roots, and rice meals are favorite in their family!
For this purpose he publishes rice cookbooks and books of Asian cuisine, in which he selects only the best and easy recipes accessible to any novice cook.
Henry lives in Boston with his wife and two sons.
This site contains affiliate links to products. We may receive a commission for purchases made through these links.