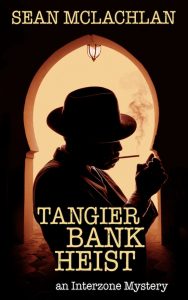 About Tangier Bank Heist: An Interzone Mystery:
Right after the war, Tangier was the craziest town in North Africa. Everything was for sale and the price was cheap. The perverts came for the flesh. The addicts came for the drugs. A whole army of hustlers and grifters came for the loose laws and free flow of cash and contraband.
So why was I here? Because it was the only place that would have me. Besides, it was a great place to be a detective. You got cases like in no other place I'd ever been, and I'd been all over. Cases you couldn't believe ever happened. Like when I had to track down the guy who stole the bank.
No, he didn't rob the bank, he stole it.
Here's how it happened . . .
THE LATEST NOVEL BY SEAN MCLACHLAN, AUTHOR OF THE MASKED MAN IN CAIRO MYSTERY SERIES, IS ON SALE FOR 99 CENTS UNTIL THE END OF OCTOBER.
Buy the ebook:
Buy the Book On Amazon

Author Bio:
Sean McLachlan is an archaeologist who has excavated in the Middle East, Europe, and the United States. Now a full-time writer, he specializes in history, travel, and fiction. He won the 2013 Society of American Travel Writers Award for his Iraq reportage.
Sean is busy working on three fiction series: Toxic World (post-apocalyptic science fiction), The Masked Man of Cairo (neo-pulp detective adventure), and the Trench Raiders action series set in World War One.
Half of Sean's time is spent on the road researching and writing. He's traveled to more than 30 countries, interviewing nomads in Somaliland, climbing to clifftop monasteries in Ethiopia, studying Crusader castles in Syria, and exploring caves in his favorite state of Missouri.
Sean is always happy to hear from his readers, so drop him a line via his blog!
Follow the author on social media:
Learn more about the writer. Visit the Author's Website
Facebook Fan Page
Twitter
Instagram
This site contains affiliate links to products. We may receive a commission for purchases made through these links.