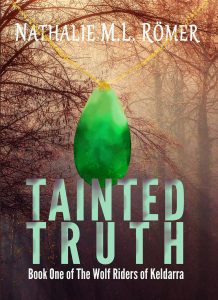 "About Tainted Truth:
When truth and lies have been used as a weapon. When you fight an enemy from the past using lies, and truth becomes the weapon with which you fight that enemy. The story takes you to an ancient land under siege.
The history of Keldarra is long but forgotten. A distant past when someone knew the Wolf Riders would rise. They also knew they would come to an end.
The Truth: Words spoken.
Still spoken to speak a lie.
Marrida. Alagur.
Each individual has a reason for wanting change. But can the reasons co-exist without clashing? Can truth prevail when each of them exists because of lies? When they discover similarity it reveals a hidden past, a past that means so much more than either knew.
Targeted Age Group: Adults
Written by: Nathalie M.L. Römer
Buy the ebook:
Buy the Book On Amazon
Buy the Book On Barnes & Noble/Nook
Buy the Book On Smashwords
Buy the Book On Apple Books
Buy the Book On Kobo
Buy the Print Book:
Buy the Book On Amazon
Buy the Book On Barnes & Noble/Nook
Author Bio:
Nathalie M.L. Römer is an author based in Gusselby, Sweden. She lives here with her partner Anders. Before this, she lived for over two decades in Britain. She was born and initially raised in the Netherlands, and later also lived in Curaçao.
Nathalie considers herself a multi-genre author, publishing them under her imprint Emerentsia Publications she co-owns with her partner. Nathalie writes primarily science fiction, fantasy, mystery, and romance, and she's working on books in other genres that interest her.
Her Facebook page is the best place to keep updated on the latest developments relating to Nathalie's writing efforts.
Follow the author on social media:
Learn more about the writer. Visit the Author's Website
Facebook Fan Page
Twitter
Instagram
This site contains affiliate links to products. We may receive a commission for purchases made through these links.