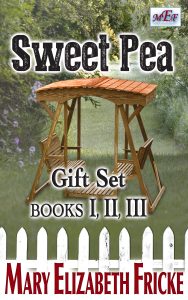 About Sweet Pea: Gift Set Books I, II,III:
Sweet Pea Gift Set: To one man she gave her virginity; to another, she gave her heart. One, she would mourn. With the other, she would share life's triumph and turmoil. With both, she would endure times of love, and passion and complete happiness as well as times of despair, confusion, and sorrow. One day at a time—each day, building unforgettable memories.
Sweet Pea I: The Demise of Innocence (1968-70): At seventeen Johnie is no longer a child but still full of virgin innocence—and defiance. She quickly learns growing up involves a lot more than physical loss of her virginity.
Sweet Pea II: Time to Deceive (1973-74) Johnie's dream of happiness becomes a nightmare where Brenda cackles while Johnie boils naked in a cauldron of pea green soup.
Sweet Pea III: The Price of Passion (1984-1990) A secret part of Johnie's soul survives nurturing the memory of Jake. Fate strikes several more dramatic blows and once again, everything changes.
Buy the ebook:
Buy the Book On Amazon

Author Bio:
Mary Elizabeth Fricke has lived her entire life within five miles of the Missouri River. She and her husband of 37 years have lived 34 of those years on a farm that has been consistently owned and operated by his family for five generations. They have two grown sons married to wonderful women and two beautiful grandchildren.
A graduate of the Writer's Institute of America and a member of the Heartland Writers Guild, she has published a number of articles in various forums and magazines, as well as Dino, Godzilla and the Pigs, My Life on Our Missouri Hog Farm. She is also a prolific ghost writer.
Her stories, based in rural mid-western areas, concern the unique but quickly vanishing way of life on the family farm as well as other mysterious intricacies that evolve life from generation to generation. Romance is her preferred genre.
Previously published in the Birds the Peril Series:
Pigeon in a Snare (Lisa's story)
Roses for the Sparrow (Jani's story)
Plight of the Wren (Susie's story)
Robin Unaware (Stephanie's story)
Just published:
Sept. 3, 2017 Demise of Innocence (Sweet Pea I)
Oct. 7, 2017 Time to Deceive (Sweet Pea II)
Nov. 30,2017 The Price of Passion (Sweet Pea III)
'Sweet Pea' Gift Set (Books I, II, III) was published Feb. 2018
All are available from Amazon Kindle Select
The only connection between The Sweet Pea Trilogy and the Birds in Peril Series is their central Missouri location. All characters and most places are fiction.
Follow the author on social media:
Learn more about the writer. Visit the Author's Website
Facebook Fan Page
This site contains affiliate links to products. We may receive a commission for purchases made through these links.