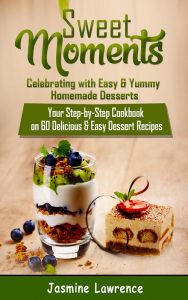 "About Sweet Moments – Celebrating with Easy & Yummy Homemade Desserts:
Want to celebrate your sweet moments and special occasions with the most delicious homemade desserts?
Want to enjoy yummy pastries with your love ones without wasting too much time, energy, and money on expensive ingredients and difficult preparation processes?
Sweet Moments – Celebrating with Easy & Yummy Homemade Desserts will be your practical step-by-step guide showing you how to prepare Delicious Homemade Desserts from your own kitchen.
With this guide, working professionals & housewives like you can enjoy delicious homemade desserts and saves you the time trying to find dessert recipes, hoping that they work out and taste good. You will then have more time to spend with your loves ones, to organize gatherings/parties with friends and relatives, celebrating on special occasions with your home-baked goodies and treats.
So, don't wait another second to master the art of preparing mouthwatering desserts with this cookbook.
Inside you'll discover:
• Common & Essential Ingredients, Equipment for preparing your kitchen and cooking processes;
• 60 Homemade Dessert Recipes complete with ingredients and cooking steps and more;
• Helpful Tips in Storing/Preserving desserts for consumption at a later time (such as preparing for parties etc.);
• And much, much more!
Targeted Age Group: Adults
Written by: Jasmine Lawrence
Illustrated by: Jeffrey Lean
Buy the ebook:
Buy the Book On Amazon