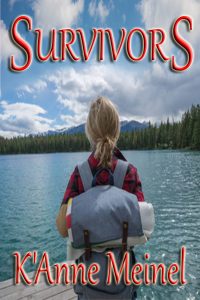 About Survivors:
For some, the world would end with the dropping of the bombs. For others, a select few, it would present an opportunity to show their true mettle. Those who will take on the challenge to live without, make do, and subsist on, are the survivors.
Jodi was one of the few. She knew what was coming. She read the signs, and she had friends in low places who kept her informed. She bought a cabin in the middle of nowhere, fixed it up, and warned her closest friends and family that the time would come to abandon the big cities, to hide and seclude yourself for the safety of your family and everyone closest to you.
Krista was her partner, her best friend, and her wife at a time when states didn't recognize same-sex marriage. Krista coped with her mate's compulsions by recognizing that indulging her was the best way to maintain a harmonious union. After all, they could afford it. Little did she realize that Jodi was destined to be the savior of them all.
Finding that things were much worse than everyone had speculated didn't surprise Jodi. But it would forever alter her family's world view and transform them into something they hadn't realized they were destined to become…SURVIVORS!
Buy the ebook:
Buy the Book On Amazon
Buy the Book On Barnes & Noble/Nook
Buy the Book On iBooks/iTunes
Buy the Book On Kobo

Author Bio:
K'Anne Meinel, pronounced Kay-Anne My-Null (in Europe) and My-Nell (in America), is an American author born and raised in Wisconsin. While she has lived in central and southern California, she always returns home to roost.
K'Anne professes to write books that she would like to read. Through her novels, novellas, and short stories, she has grown into a writer who is willing to expand her horizons. She fearlessly steps out of her comfort zone in order to allow the reader, through her words, to savor the experiences of her life.
Her first book SHIPS was written in 2003, but she re-wrote bits of it off and on for the next eight years before finally self-publishing it and being approached by a publisher. Short stories joined her 'bill of fare' in 2011 purely as a personal mind exercise. 2011 was also the beginning of a series of books which all include Malice in the title. This deliciously gripping series leaves the reader suspended, starving, and craving more. Today, with over ninety titles to her credit, K'Anne is truly an established author.
Several years ago, K'Anne created Shadoe Publishing to showcase her books under a publishing logo and house since many outlets will not accept independently self-published books. Shadoe Publishing removed that hurdle and also gave K'Anne the opportunity to utilize the business skills she had acquired over a twenty-five-year period while running companies for others.
Over the years, under K'Anne's guidance, Shadoe Publishing has grown to market and showcase other new and upcoming authors. Since its inception, it has helped more than two dozen authors. K'Anne devotes her time and skills under the Shadoe Publishing brand to promoting her own and other's works. K'Anne's goal is not to be the biggest publisher of LGBT works, but to be the most supportive publisher and to be the most successful she can be in the unique atmosphere she has created for her authors.
In December 2017, K'Anne launched the Lesfic Bard Awards in the hopes of showcasing, marketing, and awarding deserving authors of lesbian literature.
K'Anne is the mistress of sarcasm and double entendre, with a wicked tongue-in-cheek sense of humor that many find addictive; she has a special way with words. Her descriptions paint visions in your mind and her words fuel your imagination. Named the lesbian Danielle Steel of her time, she has been featured in the Huffington Post for her detailed and gripping storylines. Befriend or 'like' her on Facebook and follow her on Twitter to keep up-to-date on her latest books, stories, and career. You are sure to find something you will enjoy. K'Anne also welcomes your email comments, suggestions, or advice – but don't hold your breath waiting for her to put it into practice.
Follow the author on social media:
Learn more about the writer. Visit the Author's Website
Facebook Fan Page
Twitter