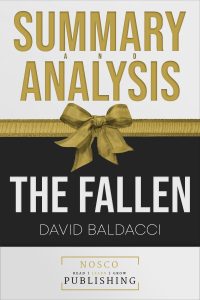 About Summary of The Fallen by David Baldacci:
David Baldacci's #1 New York Times bestseller "The Fallen" summarized in one book.
WHY BUY THIS BOOK:
Save time by reading this summary
Save money by buying this summary
Gain more in-depth knowledge
ABOUT THE ORIGINAL BOOK:
Something sinister is going on in Baronville. The rust belt town has seen four bizarre murders in the space of two weeks. Cryptic clues left at the scenes–obscure bible verses, odd symbols–have the police stumped.
Amos Decker and his FBI colleague Alex Jamison are in Baronville visiting Alex's sister and her family. It's a bleak place: a former mill and mining town with a crumbling economy and rampant opioid addiction. Decker has only been there a few hours when he stumbles on a horrific double murder scene.
Take action today and download this book for a limited time discount of only $0.99!
Read on your PC, Mac, smartphone, tablet or Kindle device.
Buy the ebook:
Buy the Book On Amazon

Author Bio:
Read | Learn | Grow
Nosco Publishing offers an in-depth look into the most popular books by some of the most famous authors.
Follow the author on social media:
Learn more about the writer. Visit the Author's Website
Facebook Fan Page
Twitter
Instagram
This site contains affiliate links to products. We may receive a commission for purchases made through these links.