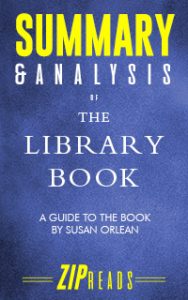 "About Summary & Analysis of The Library Book:
Susan Orlean weaves a beautiful and insightful tale of the history, purpose, and heart of libraries as seen through the lens of the great Los Angeles library fire of 1986.
Targeted Age Group: ALL
Written by: ZIP Reads
Buy the ebook:
Buy the Book On Amazon

Author Bio:
ZIP Reads is dedicated to creating high-quality summaries of non-fiction books to help you zip through the bestseller list each week!
We cover books in self-help, business, personal development, science & technology, health & fitness, history, and memoir/biography. Our books are expertly written and professionally edited to provide top-notch content. We're here to help you decide which books to invest your time and money reading.
Absorb everything you need to know in 20 minutes or less!
We release new summaries each and every week, so join our mailing list to stay up-to-date and get free summaries right in your inbox!
Follow the author on social media:
Learn more about the writer. Visit the Author's Website
Facebook Fan Page