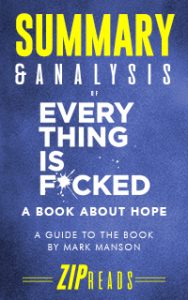 "About Summary & Analysis of Everything Is F*cked:
If the world is statistically better off than ever before, then how come everything feels so f*cking terrible? This is the question Manson attempts to answer in his latest bestselling book, Everything Is F*cked.
Targeted Age Group: ALL
Written by: ZIP Reads
Buy the ebook:
Buy the Book On Amazon
Author Bio:
ZIP Reads is dedicated to creating high-quality summaries of non-fiction books to help you zip through the bestseller list each week!
We cover books in self-help, business, personal development, science & technology, health & fitness, history, and memoir/biography. Our books are expertly written and professionally edited to provide top-notch content. We're here to help you decide which books to invest your time and money reading.
Absorb everything you need to know in 20 minutes or less!
Follow the author on social media:
Learn more about the writer. Visit the Author's Website
Facebook Fan Page
This site contains affiliate links to products. We may receive a commission for purchases made through these links.