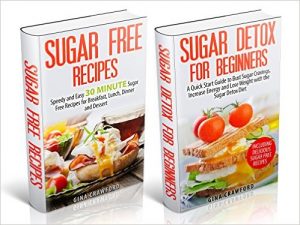 "About Sugar Detox for Beginners 2 for 1 FAST TRACK Power Pack!:
Sugar Detox for Beginners & Sugar Free Recipes together in one powerful box set!
Are you tired of fighting with pesky sugar cravings?
Is your body desperately in need of a sugar detox?
With the Sugar Detox for Beginners Box Set you're going to discover the best, most effective way to detox your body from the harmful effects of sugar AND how to end your sugar cravings and sugar addiction for life!
How Sugar Detox for Beginners can save your life!
Statistics say that the average American consumes 156 pounds of added sugar each year. Yet, sugar can be extremely damaging to the body because it can cause all kinds of life-threatening diseases.
Nutrition experts say that refined sugar is as harmful as a drug. It is simply a pure chemical derived from plant sources that is purer than cocaine.
Studies show that sugar causes the brain to react in a similar way that it does to opiates like heroin. It makes you consume more sugar to get the same 'high' you had before.
In a concise, step-by-step way, Sugar Detox for Beginners walks you through exactly how the sugar detox diet works and how to start eating healthy for life.
Nutritionist Brooke Alpert and dermatologist Dr. Patricia Farris recommend following a 4 week eating plan with sugar free recipes AFTER your sugar detox.This box set has got you covered! Sugar Detox for Beginners no fluff, quick start guide shows you HOW to detox and the Sugar Free Recipes book equips you with weeks of sugar free recipes that you can use after your detox!
Sugar Detox for Beginners teaches you:
• The many benefits of a sugar detox diet
• How to choose foods that will detox your body from sugar
• How the sugar detox will help you lose weight
• How to sleep better, have clearer skin, better memory, better teeth
• How to prevent mood swings and increase energy
• How to prevent diseases caused by sugar
• …and much more!
Here's a Preview of What You'll Learn…
• How the sugar detox diet works
• Why sugar makes you fat
• Good foods to eat on the sugar detox diet
• Foods to avoid on the sugar detox diet
• How to do a 21 day sugar detox, a 7 day sugar detox and a 3 day sugar detox
• What to expect during your sugar detox
• How to reintroduce sugar and maintain a low sugar diet
• …and more!
Speedy and Easy 30 MINUTE Sugar Free Recipes for Breakfast, Lunch, Dinner and Dessert is a QUICK, EASY and DELICIOUS sugar free cookbook. It is to be used AFTER your sugar detox to help you maintain a sugar free diet or low sugar diet.
NO ARTIFICIAL SWEETENERS are used in any of the sugar free recipes!
Each recipe contained in this sugar free cookbook will help lower blood pressure, lower cholesterol, detox your body, and help you lose weight.
Sugar free recipes include:
• Sugar Free Chicken and Bacon Breakfast Burrito
• Guilt-Free Eggs Benedict
• Exotic Mango Chicken Lettuce Wraps
• Crème Fraîche Prawns with Green Peppercorns
• Ground Turkey Garam Masala Meatballs
• Sugar Free Chocolate Ice Cream
• Peanut Butter Mousse
You'll get recipes for every meal:
• Sugar Free Recipes for Breakfast
• Sugar Free Recipes for Lunch
• Sugar Free Recipes for Dinner
• Sugar Free Recipes for Dessert
DOWNLOAD YOUR COPY TODAY!
Targeted Age Group: Adults
Written by: Gina Crawford
Buy the ebook:
Buy the Book On Amazon

Author Bio:
"Getting healthy, achieving your goal weight and loving life is only a read away!"
Understanding what it takes to live a healthy lifestyle, eat right, achieve your goal weight, and love your life shouldn't be complicated. Your time is valuable and the last thing you need is to tackle a 300 page book on how to get your health, weight, and life on track. If you're like most people, you just want the facts in bite-sized, easy to understand pieces that you can apply to your life TODAY!
My name is Gina Crawford. I am a health and "all things natural" enthusiast and author. Years ago I was overweight, exhausted, unhappy, and desperately aching for a better life. One day, gruelingly tired of my situation, I started researching everything I could on health and transforming my life. I often felt overwhelmed by the amount of information and the changes I had to make, but I persevered and managed to turn my life around one book and one bite at a time.
Now I'm determined to share what I've learned in an easy, non-overwhelming, no fluff, no filler, straight to the point kind of way that will allow others to achieve maximum results in a short amount of time.
I am passionate about every book I write and my goal with each book is to make it simple and concise, yet power-packed with the necessary information you need to transform your life. I have learned first-hand the incredible value of healing ourselves with natural organic foods, natural remedies, exercise, and a positive mindset.
When I'm not writing, I love cooking, walking, and reading!
My hope is that my books will help you live a healthier, better, more passionate, alive life!
Happy reading!
This site contains affiliate links to products. We may receive a commission for purchases made through these links.