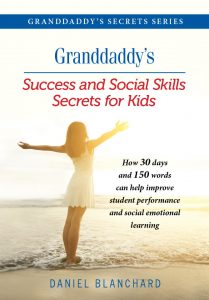 "About Success and Social Skills Secrets for Kids: How 30 days and 150 words can help improve student performance and social emotional learning:
It's a fact that today some of our public school kids are struggling. We hear reports of test scores being down and kids don't like to read as much as they used to. Now the schools are being charged with teaching more nontraditional skills, like social skillsthat involve social emotional learning, than ever before, to students less prepared than ever before. Granddaddy's Success and Social Skills Secrets for Kids will help students learn how to:• Improve their performance through reading high interest short passages• Increase social emotional learning through insightful readings.• Create a civic mindedness in students through community orientated discussions that will help make this world and our schools a better placeIf you're one of those educators who is giving it your all to help all of our students be better students and better people then Granddaddy's Success and Social Skills Secrets for Kids is for you.
Targeted Age Group: 22-62
Written by: Daniel Blanchard
Buy the ebook:
Buy the Book On Amazon
Author Bio:
Dan Blanchard the Bestselling and Award-Winning, Author, Speaker, and Educator. TV Host. Two-time Junior Olympian Wrestler and two-time Junior Olympian Wrestling Coach who grew up as a student-athlete. However, Dan admits that as a youth he was more of an athlete than a student. Dan has now successfully completed fourteen years of college and has earned seven degrees. He teaches Special Education and Social Studies in Connecticut's largest inner-city high school where he was chosen by the AFT-CT as the face and voice of educational reform and is now on the speaking circuit for them. Dan was with the team that put forth Connecticut's new Social Studies Frameworks and is also a member of the Special Education Advisory Board to the Connecticut State Department of Education. In addition, Dan is a Teacher Consultant for the University of Connecticut's Writing Project. Finally, Dan is a double veteran of the Army and the Air Force.
Follow the author on social media:
Learn more about the writer. Visit the Author's Website
Facebook Fan Page
Twitter
Instagram
This site contains affiliate links to products. We may receive a commission for purchases made through these links.