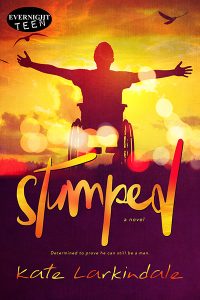 About Stumped:
Seventeen-year-old Ozzy has a super-hot girlfriend who's ready to take their relationship to the next level. Tonight. At the lake.
But a missing condom scuttles his plans for seduction. Furious, Ozzy takes his girlfriend home and drives off — into the path of an oncoming truck. He wakes up in the hospital with both legs amputated above the knees.
When his girlfriend runs out of his hospital room gagging after a single look at him, Ozzy knows he's a hideous freak. He becomes convinced he's blown any chance of finding love, a girlfriend or ever having sex.
Determined to prove he can still be a man, Ozzy throws himself into dumping the burden of his virginity, but finds there's a limited number of people willing to touch legless dudes in wheelchairs. His obsession takes him into the seedy underworld of brothels and escort services where he discovers the difference between sex and intimacy, and that sometimes the price you pay for getting what you want is much higher than a sex worker's fee.
Buy the ebook:
Buy the Book On Amazon
Buy the Book On Barnes & Noble/Nook
Buy the Book On Smashwords
Buy the Book On iBooks/iTunes
Buy the Book On Kobo

Author Bio:
Having spent a lifetime travelling the globe, Kate Larkindale has settled in Wellington, New Zealand. A marketing executive, film reviewer and mother, she's surprised she finds any time to write, but doesn't sleep much. As a result, she can usually be found hanging out near the espresso machine.
She is the author of contemporary YA novels An Unstill Life and Stumped along with several others that no one is allowed to see. Yet. She has also written one very bad historical romance, which will likely never see the light of day. She is working on several more YA novels that may or may not ever be finished…
Her short stories have appeared in Halfway Down The Stairs, A Fly in Amber, Daily Flash Anthology, The Barrier Islands Review, Everyday Fiction, Death Rattle, Drastic Measures, Cutlass & Musket and Residential Aliens, among others.
Follow the author on social media:
Learn more about the writer. Visit the Author's Website
Twitter