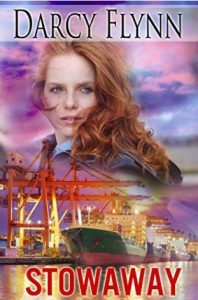 "About Stowaway:
Her identity is hidden … He's determined to uncover it
Charleston, South Carolina shipping heiress, MIRANDA MERRICK, discovers one of her family's cargo ships, the Elle Merrick, has suffered multiple attacks by a saboteur. The devious actions have put the company at risk for bankruptcy. Miranda refuses to sit idly and wait for years of hard work to be destroyed. She boards the Elle in hopes of gaining help from her uncle, the ship's captain, only to discover a stranger at the helm.
In an effort to discover the culprit and save her family's company, Miranda stows away on the ship – keeping her identity a secret while conducting her own investigation. Making matters more complicated, she finds herself attracted to the new captain, who could very well be the enemy. After all, until she can uncover the truth, everyone is suspect.
Captain NOAH SHEPPARD is hoping to merge his small, cargo shipping line, Clayton Company, with the multinational conglomerate, Merrick Shipping. Upon discovering one of Merrick's ships has been deliberately and systematically sabotaged by a crew member, he agrees to captain the targeted vessel in hopes of discovering the identity of the saboteur. Once caught and brought to justice, both companies will then be able to close the deal and complete the merger.
Two days into the voyage, Noah discovers a stowaway, and assumes she's either the saboteur or in league with him. But what Noah didn't bargain for is having to deal with the mysterious, gorgeous, redhead, who wreaks havoc – not only to his patience, but to his heart.
Targeted Age Group: Young Adults & Adults
Written by: Darcy Flynn
Buy the ebook:
Buy the Book On Amazon

Buy the Print Book:
Buy the Book On Amazon
Author Bio:
Darcy Flynn was born into the rich culture of New Orleans, La., a city filled with colorful historical intrigue and broad creative energy. Darcy's natural bent to the arts coupled JOY_a12_027with her love for one of the most romantic cities in the world has been the inspiration and anchor of her artistic, multi-dimension endeavors. Darcy was always compelled by the need to express herself and like her mother's famous gumbo, her previous expressions included a little bit of everything—art, music, acting, and dance.
Although published in music, art, and the Christian non-fiction and Homeschool market under her real name, Joy Griffin Dent, it was the empty nest that turned Darcy to writing romantic fiction which proves it's never too late to follow your dreams.
Darcy, a former Mrs. Tennessee, continues to be surrounded by all things creative in Music City and when not writing in her Florida beach cottage, lives on a beautiful horse farm in historic Franklin, Tennessee, with her husband, son, and a menagerie of living creatures. Darcy enjoys stargazing, raising rare breed chickens, and gardening.
Follow the author on social media:
Learn more about the writer. Visit the Author's Website
Facebook Fan Page
Twitter
Instagram
This site contains affiliate links to products. We may receive a commission for purchases made through these links.