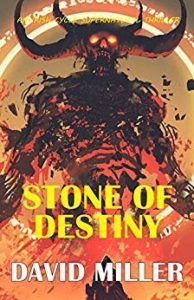 "About Stone of Destiny:
A Boston cop. A Celtic demi-goddess warrior woman. A centuries old Japanese vampire. And a race to find an ancient artifact that can command armies. In modern day Boston. Yeah, right.
If encountering a warrior woman on horseback, complete with chain mail, animal hides, and sword, menacing a red-clad leprechaun in a top hat and carrying a magic lantern didn't blow Sean Regan's mind–a former police detective recently busted down to patrol–the giant, bloodthirsty, attacking vulture that disappeared into a gigantic puff of smoke certainly did.
Add to that a series of bizarre murders–bodies whose very souls were sucked out of them–a deadly search for an ancient Celtic artifact called Lia Fáil that could determine the fate of this world–and Others–depending on who possesses it, and oh yeah, a killing spree by what just might be a pesky vampire on the loose, all leave Regan's grasp on reality tenuous at best.
Crap like that doesn't happen in Boston. Does it?
Book 1 in the Irish Cycle Series – A unique urban fantasy thriller series with a mix of mythological and supernatural elements set in contemporary America.
Also in the Irish Cycle Series
* Stone of Destiny * Through the Ages * Daughter of Darkness * Gateway to Sheol
Targeted Age Group: General audience
Written by: David Miller
Buy the ebook:
Buy the Book On Amazon
Author Bio:
DAVID MILLER grew up in New York in the early '70s watching Dark Shadows during the day, the Night Stalker at night, and the weekly Creature Feature movie on an old black & white RCA television set every Saturday night with his father. It was there watching the classic Frankenstein, Dracula, and the Wolfman movies his love for the supernatural was born.
It's no wonder now as an adult (chronologically anyway) he writes stories with fantastical creatures, mystical happenings, and occult goings-on, of worlds where anything can happen…and usually does. Nor should it be surprising among his favorite TV shows are Supernatural, Buffy, Angel, and his newest guilty-pleasure; Wynonna Earp.
Follow the author on social media:
Learn more about the writer. Visit the Author's Website
Facebook Fan Page
Twitter
This site contains affiliate links to products. We may receive a commission for purchases made through these links.