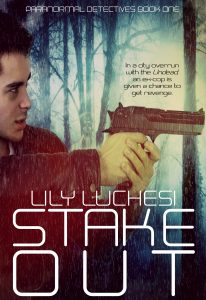 "About Stake-Out:
In a city overrun with the undead, an ex-cop is given a chance to get revenge…
Danny Mancini is on a case, following a murder suspect. When he catches him, he finds out that the perp isn't even human: he's a 200 year old rogue vampire!
The department doesn't believe him, and puts him on early retirement, despite his many years of service to the Chicago Police Department, which sends him into a downward spiral.
Two years later, Danny gets an invitation from the beautiful, young and very attractive Detective Angelica Cross to join a secret branch of the FBI to help her track down Vincent, the wayward vamp.
But renegade werewolves, meddling immortal witches and Danny's strange visions of a life lived a century ago with Angelica make things more difficult than it should be.
Targeted Age Group: 17+
Written by: Lily Luchesi
Illustrated by: Rue Volley
Buy the ebook:
Buy the Book On Amazon
Buy the Print Book:
Buy the Book On Amazon
Buy the Book On Barnes & Noble/Nook
Author Bio:
Lily Luchesi is the USA Today bestselling and award-winning author of the Paranormal Detectives Series, published by Vamptasy Publishing. She also has short stories included in multiple bestselling anthologies, and a successful dark erotica retelling of Dracula.
Her Coven Series has successfully topped Amazon's Hot New Releases list consecutively.
She is also the editor, curator and contributing author of Vamptasy Publishing's Damsels of Distress anthology, which celebrates strong female characters in horror and paranormal fiction.
She was born in Chicago, Illinois, and now resides in Los Angeles, California. Ever since she was a toddler her mother noticed her tendency for being interested in all things "dark". At two she became infatuated with vampires and ghosts, and that infatuation turned into a lifestyle. She is also an out member of the LGBT+ community. When she's not writing, she's going to rock concerts, getting tattooed, watching the CW, or reading manga. And drinking copious amounts of coffee.
Follow the author on social media:
Learn more about the writer. Visit the Author's Website
Facebook Fan Page
Twitter
Instagram
This site contains affiliate links to products. We may receive a commission for purchases made through these links.