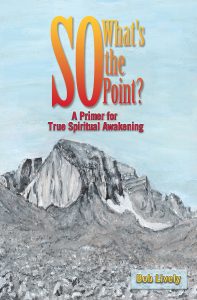 About So What's the Point?: A Primer for True Spiritual Awakening:
Bob Lively's memoir—So What's the Point?—tackles the painful question everyone asks when life gets too hard to handle or deals an unexpected blow. With his soul-filled insights, Bob introduces a host of characters who taught him the tough lessons of real strength and self-awareness. His true stories show readers how to grow in their appreciation for kindness and compassion, as he reveals the solution to the title's query.
Begin your journey with Bob at Long's Peak in the midst of a life-threatening storm, and follow him as he navigates decisions, interruptions, callings, disappointments, challenges, and obstacles. Along the way, Bob never lost sight of the need for true spiritual awakening. Discover for yourself what answer, in the end, matters most, and let your life be changed for good.
Buy the ebook:
Buy the Book On Amazon

Author Bio:
Bob Lively is a native Texan, who was born in Dallas and raised and educated in the Dallas public schools. He is a graduate of Austin College and also of Austin Presbyterian Theological Seminary. The Presbyterian Church ordained him in 1973, and for the past four decades he has served the church as a pastor, community activist, teacher, certified pastoral counselor, campus minister, and recovery center chaplain. He is the author of 9 other books of non-fiction and is an award-winning short story writer. For 23 years he wrote a regular column in the Austin American-Statesman. The Thin Place is his first novel. Today he is retired and lives with his wife, Mary Lynn, a retired university associate dean, on an acre in the Hill Country west of Austin. He has been named a distinguished alumnus of both Austin College and Austin Seminary.