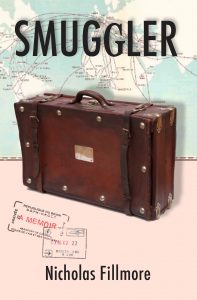 "About Smuggler:
When twenty-something post-grad Nick Fillmore discovers the zine he's been recruited to edit is a front for drug profits, he begins a dangerous flirtation with an international heroin smuggling operation and in a matter of months finds himself on a fast ride he doesn't know how to get off of.
After a bag goes missing in an airport transit lounge he is summoned to West Africa to take a voodoo oath with Nigerian mafia. Bound to drug boss Alhaji, he returns to Europe to put the job right, but in Chicago O'Hare customs agents "blitz" the plane and a courier is arrested.
Thus begins a harried yearlong effort to elude the Feds, prison and a looming existential dead end…. Smuggler relates the real events behind OITNB.
Targeted Age Group: Adult
Written by: Nicholas Fillmore
Buy the ebook:
Buy the Book On Amazon
Buy the Book On Barnes & Noble/Nook
Buy the Book On Apple Books
Buy the Book On Kobo
Buy the Print Book:
Buy the Book On Barnes & Noble/Nook
Buy the Book On Indie Bound
Author Bio:
Nicholas Fillmore attended the graduate writing program at University of New Hampshire, was a finalist for the Juniper Prize in poetry and co-founded and published SQUiD magazine in Provincetown, MA.
Fillmore is currently at work on Sins of Our Fathers, a family romance. He is a reporter for Courthouse News Service, lecturer in English at Hawaii Pacific University and publisher of iambic Books.
Follow the author on social media:
Learn more about the writer. Visit the Author's Website
Facebook Fan Page
Twitter
Instagram